Broccoli and Baby Broccoli
Don't be afraid to eat the stems of broccoli. They are highly nutritious and full of flavour. Try grating them and adding to Bolognese sauce or using them in a stir fry.
Onions
Store onions in a cool, dark and well ventilated area away from direct sunlight and ideally in an onion bag. They should keep for a couple of weeks.
Pumpkins
Store unused portions of pumpkins in the fridge and ensure it is well wrapped in cling wrap. Ideally use it within a week. A whole uncut pumpkin will keep for several weeks in a cool dark place.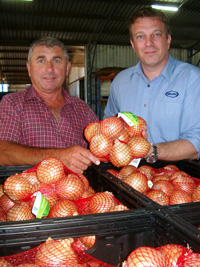 BASIC STORAGE & HANDLING TIPS FOR DRY BULB ONIONS:
Always handle onions with care. Do not drop onions as this often causes bruising and internal decay.
Bagged or boxed onions should be stored at least 30cm away from walls and other pallets to allow proper air movement.
Store onions in a cool, dry, well-ventilated area.
Maintain storage temperature of 7 – 13°C.
Do not wrap onions in plastic or store in plastic bags. A lack of air circulation will reduce shelf life.
Onions should feel firm and dry, be free of grey or black mould, and should not have any visible sprouting. Some loose skins are normal.
Do not store onions with potatoes or other produce items that release moisture.
Keep onions out of direct sunlight and other heat sources.
Broccoli and Baby Broccoli
Don't overcook your broccoli and ideally steam it for the highest nutritional value
Onions
Ensure that your knife is sharp when cutting onions. It will minimise the amount of gas that is released from the onion which causes your eyes to water and sting.
Pumpkins
Pumpkin cooks a lot faster than potato so it is ideal for BBQ's. Thinly slice the pumpkin, drizzle with a little oil and cook for a few minutes either side.
Contact Details
5209 Warrego Highway,           Gatton QLD 4343
07 5466 5441
Proudly Australian