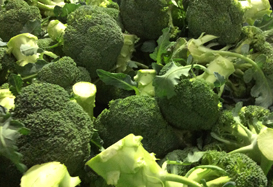 We are now midway through our 2014 broccoli season.  We have harvested just over half of our 500ha of broccoli and are also heading back to the Darling Downs properties to commence the final stages of planting which will see our supply through to the end of the season.
Both our farms and packing shed operations are currently working at peak capacity for the broccoli season. Qualipac Farms General Manager, Brad Qualischefski is currently overseeing harvesting in the Lockyer Valley and has been very pleased with the results.
"The recent cool and mostly dry weather has been favourable for us and has resulted in high quality broccoli and excellent supply."
This excellent supply has been welcome news to southern states whose own supply has been hit by extremely cold weather. Qualipac has been able to fill the gap down south and help ensure they have fresh broccoli on their shelves.
We encourage you to enjoy some broccoli tonight. It is great quality at the moment and as always, is a great source of vitamins and minerals.
Contact Details
5209 Warrego Highway,           Gatton, QLD 4343
07 5466 5441
Proudly Australian